What robotic surgery options are available?
Many urologic surgeries are available using robotic surgery today and robotic technology is constantly being applied to new surgeries. Below is a list of the conditions and surgeries currently offered by The Urology Group:
Robotic Surgery Options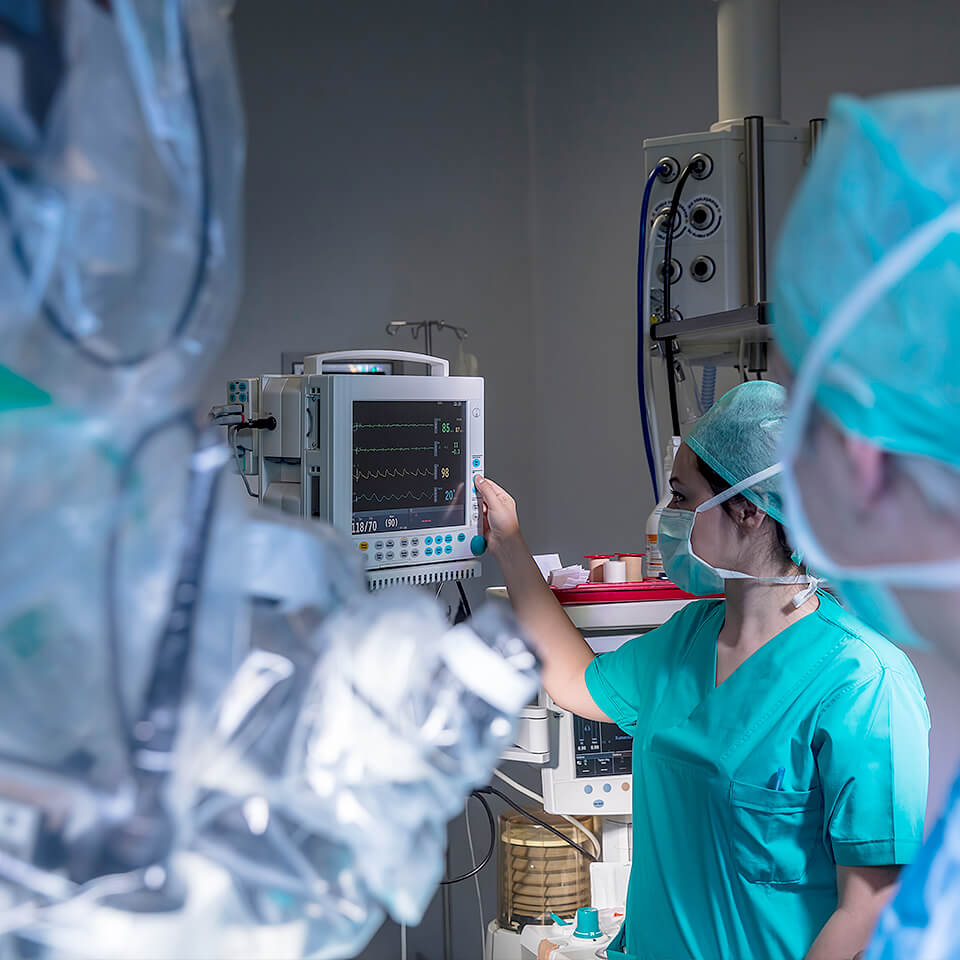 Adrenalectomy – removal of the gland above the kidney

Bladder diverticulectomy > surgical correction of a diverticula—abnormal sacs or pouches in the urinary bladder that form when the bladder lining protrudes through the bladder wall.

Cystectomy – removal of the bladder

Anterior pelvic exenteration – removal of the bladder, uterus, fallopian tubes, ovaries and anterior wall of the vagina (women with bladder cancer)
Cystoprostatectomy – removal of the bladder and prostate (men with bladder cancer)

Nephrectomy – removal of the kidney

Nephroureterectomy – removal of the kidney, renal pelvis, ureter and bladder cuff. It is performed primarily to treat transitional cell carcinoma. Partial nephrectomy – removal of part of the kidney

Prostatectomy – removal of the prostate

Radical – removal for prostate cancer
Simple – removal for difficulty passing the urine

Pyeloplasty – surgical correction of a blockage that has occurred between the kidney and the ureter – the tube that drains the kidney into the bladder. Removing the blockage allows urine to drain freely from the kidney to the bladder.

Sacroculpopexy – vaginal suspension for prolapse

Ureteral reimplant – reconstruction of where the kidney tube (ureter) meets the Bladder
Problems Treated with Robotic Surgery
Adrenal gland (gland above the kidney that makes hormones) – excisional biopsy, removal
Bladder – bladder cancer, refractory bladder pain requiring removal of the bladder
Kidney – kidney cancer; removal of kidney for lack of function, stone, refractory pain; cysts
Prostate – prostate cancer, prostate obstruction for very large prostates
Ureter (tube that carries urine from the kidney to the bladder) – ureteropelvic junction obstruction, vesicoureteral reflux, ureterovesicular junction blockage
Vagina – suspension for prolapse
Meet Dr. Nicholas Lailas, Urologist
Print Page
We're here to answer your questions
Contact us to request an appointment or ask a question. We're here for you.
Contact Us